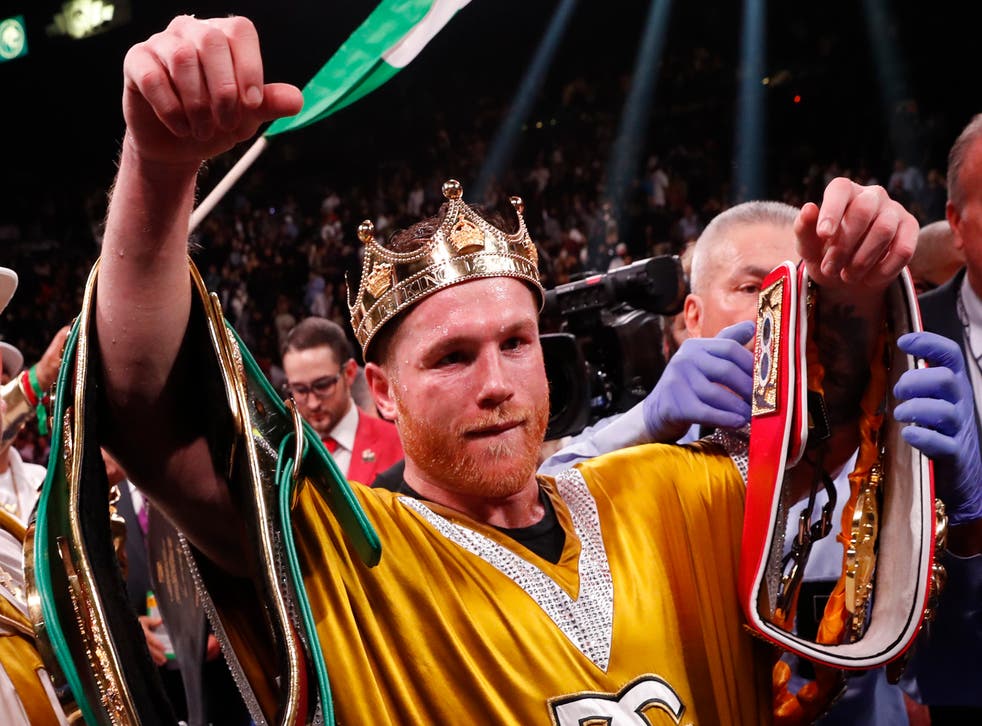 It is not a surprise why most boxing analyst have given Canelo Alvarez the title and award of boxer of the year for this 2021. The Mexican champion has accomplish what no other Mexican boxer has done in the history of the sport: become the undisputed middleweight champion of the world.
But is not only winning multiple belts that amazes fans and critics alike, but the way he has done it. In the process, he became the highest paid boxer and one of the richest athletes in the world. Everyone in the business is trying to fight Canelo to get that fat check and perhaps exposure and visibility in the sport.
But, why is Canelo this good? When did he reached this elite status? Why is he currently the best pound for pound? The answer to the question could lead us to 'Money' Floyd Mayweather.
Yes, it may be that their September 2013 fight was a once in a lifetime learning experience for Canelo. He learned from the best how to move and not get hit, as well as using his shoulder as shield for defensive purposes. We have seen tremendous growth from Canelo after the Mayweather fight, his defensive skills are indeed superb now. But perhaps, what he learned from Floyd was not just in-ring skills, but also how to manage his own boxing career and become dominant.
No, Money is not Canelo's trainer or manager or promoter, as we all know. However, Money was instrumental in changing the sport of boxing. For starters, Money became his own boss, in a sport where rarely boxers have an opportunity to call their own shots. He essentially empowered boxers. After Money, we saw Manny Pacquiao following his footsteps, becoming a free agent, and trying to also call his own shots. Unfortunately for the Filipino legend, he was past his prime and had only a few more years in his illustrious career when he decided to part ways with Bob Arum.
That was not the case of Alvarez. After a messy split from Golden Boy promotions, he became a free agent. The deal with DAZN and Golden Boy stipulated matches against rivals that Canelo was not interested in and had desire to pursue. Once he was cleared he started searching for rivals and 'picking' his opponents. He went up to light-heavyweight to fight Kovalev and win the title. He then went back to the 168 division and challenged all of the title holders except a tough and hungry David Benavidez who had moved up and vacated his 168 belt.
If he had continued with Golden Boy and DAZN we would have perhaps seen a third fight with Triple G and not gone up in weight to face Kovalev. Canelo would have most likely stayed in the 168 division and challenged all champs, including Benavidez. Critics have accused Canelo of ducking them both.
But, who knows, Canelo is talented enough to have had defeated both of GGG and Benavidez and more. We, however must accept that at this point, Canelo will fight whoever he wants and whenever he wants after a deep and detailed scouting report of his opponents.
Canelo is the indeed the best boxer in the world right now. He has fought champions and defeated all of them convincingly. He has a great manager and a solid team. Unfortunately, for us fan, we are missing of great fights. Canelo is on the driving seat of his own career influenced by the way Floyd also ran his own boxing career. That is certainly good for him and his team. I can see Canelo going undefeated for many years to come. He has the power, skills and discipline to do so and that is why he is the best boxer today.